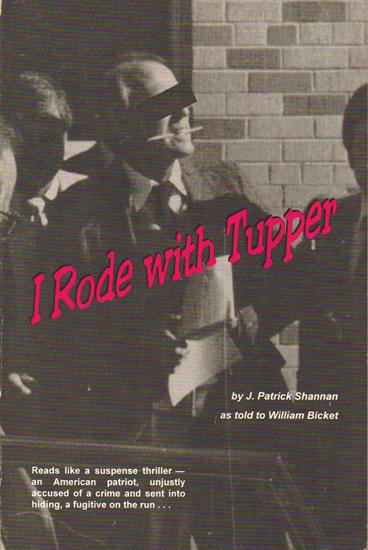 I Rode With Tupper
I Rode with Tupper is Pat's introduction to the dark-side facts of the early forming of a federal police state against the American citizenry, an unrecognizable fact at the time that has now become obvious. More than that, it is a walk through little-known American history while giving an on-the-spot report of that infamous government hammer coming down against another American citizen whose only crime was speaking the truth too loudly.
I Rode With Tupper is a recitation of Shannan's memoirs while 'on the run' with famed political dissident F. Tupper Saussy. "It ought to be required reading in order  to graduate high school," says one current political prisoner, "but many  high schoolers can't even read."
Here is the story of writer F. Tupper Saussy and his flight from federal persecution. Early during his disappearance into the underground, Saussy contacted his trusted friend for help. Author and journalist Pat Shannan tells of their traveling together and secret affiliation during Saussy's 10+ years spent in hiding and his own education with an excellent mentor that few can ever claim. The money facts and walk through history in this book are as current today as the day they were written.
I Rode With Tupper is included in

INI World Report's $99.00 Book Special Offer

, and is also available by itself for $20.00, payable by cash, check or money order. Shipping is included. Send your order to:
Oceana Management
200 Hickory Nut Lane
Canton, Georgia 30115
If you prefer to pay with Paypal or your credit card, click on the 'Buy Now' button below.

Updating...